Telemedicine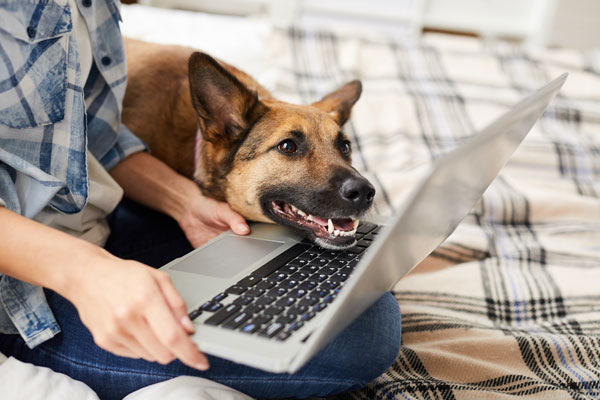 The Covid-19 pandemic has swept the world into unchartered waters. As humans and as veterinarians, we are trying to adapt to the 'new abnormal', which requires navigating between providing the best care to our animal patients and ensuring the safety of their humans – you – and our staff. One of the solutions available to vets, which has quickly gained traction in the human healthcare sphere, is telemedicine: providing healthcare via the internet.
Changes in veterinary practice during Covid-19
In the midst of Covid-19's early grip on South Africa, vets issued safety protocols for clients who needed to bring their pets in for consultation and examination. It was stipulated that only essential and emergency procedures would be conducted – the rest would have to wait. This put the onus on the pet owner to determine what type of situation is deemed essential and what constitutes an emergency.
In some instances, pet owners' queries can fortunately be answered and resolved during a phone call to the vet, especially if the vet is already very familiar with the pet patient. Where home care is prescribed (such as bland chicken and rice as well as rest for non-emergency gastric upset), this ensures that pets' health is taken care of while lowering the risk of Covid-19 infection for pet owners, vets and veterinary staff.
The case for telemedicine during Covid-19
The use of online video conferencing tools like Zoom and Skype can help to maintain social distancing protocols and reduce the risk of Covid-19 infection. In an ideal telemedicine situation, you would book an appointment with the participating vet, pay in advance for the consultation and then meet the vet on camera at the time of your appointment. No need to get your dog or cat into the car or sit in a waiting room with a restless pet. As with an in-person consultation, the vet would enquire after your pet's health and hear your specific concerns. Being on camera allows the vet to see the ill pet in question, look at any suspect lumps or rashes (high-resolution photos can also be sent via email), and assess general behaviour. Discussing symptoms and narrowing them down to find a cause can lead to a diagnosis and prescription (if necessary), which you would then collect or have delivered.
Over the last four months in the United States, veterinary telemedicine has already seen a sharp rise in the use of apps specifically developed to provide 24/7 access to professional veterinary advice. In most cases, pet owners rely on access to vet care professionals for advice and reassurance, especially in post-operative instances, or when pets have eaten something suspect or simply don't seem like themselves. Most pet owners just want to know that they're doing the right thing for their furry family members and are willing to pay subscription fees for access to vet care via these apps.
Emergencies, vaccinations and diagnostic tests, however, cannot be bypassed with telemedicine.
The benefits of telemedicine in veterinary care
Vet telemedicine may be a benefit to pet owners who are geographically or economically compromised – easier online access means less time and money spent on non-emergency vet care. It also (uncannily) performs a kind of natural triaging process, where pet owners and vets can decide together whether the pet in question qualifies as an emergency case. This keeps vet care capacity available for urgent emergencies. Telemedicine also allows easier access to specialists, and it allows pet owners to show vets behavioural symptoms as they occur in real time. How many times have you taken your sick or 'off' pet to the vet, only to have him act totally normal during the consultation?
In response to the Covid-19 pandemic, vets have had to reduce their office hours and staff attendance, which means less capacity for routine vet visits. Telemedicine has the potential to fill that gap, especially in terms of providing peace of mind that pet parents are appropriately caring for their pets' health and wellbeing, especially in such uncertain times. At best, telemedicine is the ideal screening tool to determine whether the vet should rather see the pet patient in person.
The major caveat in vet telemedicine
The provision of telemedicine as a veterinary service comes with a whole range of professional and legal implications. Appointments via video conferencing mean that consultations can be recorded – both for posterity and as part of the pet patient's file. This may protect vets and pet owners from the liability of misdiagnosis or incorrect treatment, but if the pet's health is compromised in a way that could have been avoided with an in-person consultation, telemedicine cannot be entirely supported as a reliable tool or protocol for veterinary care.
Telemedicine is not a responsible way to assess first-time patients. Vets need to establish a health baseline as well as a vet-pet-owner relationship in person. The vet also has to literally get a feel for the animal patient. Veterinary medicine is very hands-on, especially since their patients cannot tell them directly what's wrong, and pet owners' observation of symptoms and behaviour are only hearsay and may even be coloured by subjectivity.
Consider the following
The symptoms for pancreatitis in dogs include loss of appetite, vomiting, and abdominal pain. Sometimes, these are accompanied by increased or decreased body temperature, diarrhoea, lack of energy, dehydration and irregular heartbeat. How does a pet owner confirm this? A distance diagnosis via telemedicine may result in the misdiagnosis of food toxicity, which in many cases will pass without any major illness. The dog's body has its own way of expelling toxins and restoring balance. Pancreatitis, on the other hand, is a very serious condition and needs fast emergency treatment. By the time the dog shows symptoms, the illness may already be very advanced and the dog may be suffering unnecessarily. The use of telemedicine in a diagnostic situation would not serve this dog quickly enough.
In conclusion
Telemedicine may make it easier and more efficient for pet owners to get advice from a veterinary professional in these unprecedented times. It may also be necessary as part of the screening process to ensure vet waiting rooms remain empty and Covid-19-free. But telemedicine is not an adequate substitute for real, hands-on care from a vet who is familiar with your pet and cannot be relied on as a failsafe way of diagnosing and treating disease in animals. If you have any concerns regarding your pet's health and wellbeing, don't hesitate to phone the vet to ascertain your pet's need for a consultation. And then go and see them in person.
© 2020 Vetwebsites – The Code Company Trading (Pty) Ltd